WineBottler 1.2 is nearly finished, and I tought I share some screenshots of it 😀
There are still to many mails, so I've tried to further simplify WineBottler:
The Bottler itself has undergone some cosmetic changes and gained advanced features for the predefined and the custom bottles. I've added a lot of descriptions and explanations. There is a new installation mode, where you can copy multiple files to a custom app.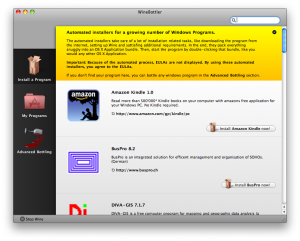 But the main change with the bottles is the customized X11.app I'm using now. It 'hides' X11. It provides a AppMenubar with a custom Menu "Applications", which carries entry for basic Wine tools. It allows to cmd-tab between apps. It sports a private "Working Copy" in ~/Library/Application Support/com.yourcompany.yourapp_[BOTTLEUNIQUEID]. For now, there is no "open with" and drag'n'drop support.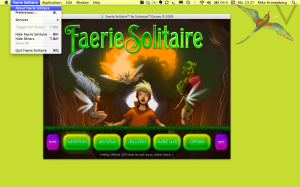 You see Faerie Solitaire, check it out http://subsoap.com/ if you are a Solitaire addict 😉 . If You feel like your app should be in the predefined section, or you need some help with creating a custom self-contained app, drop me a line.
I'm reinstalling 10.5 now, for some testing on Leopard. This release will only work on 10.5+.
Mike
56 Responses to "WineBottler 1.2 is coming along"
@Phil,
Yes, as long as you give credit to the authors of the software, and provide the sourcecode, or a link to it on your product/website. The good thing about the LGPL is, that it does not "taint" your code. So you don't have to share your programe you package with WineBottler.
If you plan on including 3rd party dlls (like vcrun from Microsoft) you need the corresponding licenses.

Mike

The screens look really cool, but Wine 1.2 is out (16th July) – so when will Winebottler be updated?

Comment by Tim — July 17, 2010 @ 20:20

Any update on WineBottler 2.0?

Comment by Melby — September 7, 2010 @ 14:07

Err….1.2?

Comment by Melby — September 7, 2010 @ 14:08

Same comment as Tim, above. Any ETA for Winebottler 1.2? Your May post got us all excited.

Comment by Squishy — September 16, 2010 @ 21:17

Are there any updated plans for the version 1.2?

Comment by Matt — October 14, 2010 @ 15:57
Social Widgets powered by AB-WebLog.com.