Keep me going
give me coffee!




WineBottler is going into another round - or two - with the release of 1.4.1.5 of the (still) stable tree and 1.6-rc2 of the (soon to be stable tree).
Beside the latest wine changes, they contain fixes – mainly for the nasty "sanitized.sh" bug, which would break your App, if the name contained spaces.
I still hear, that some users have problems with missing ntlm_auth. So please keep an eye on related error messages in the log, if a build should fail. In that case, please make sure, that you have no older WineBottler and Wine.app installed on your system. WineBottler is using Spotlight to look for Wine.app – this means it might select an old version. Just archive or delete the old versions. If the error persists, please send me a note.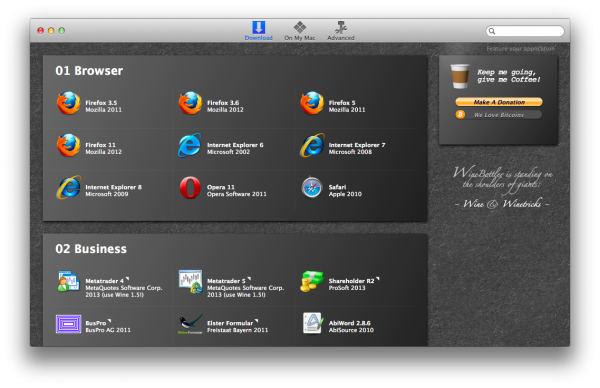 Wine is finally in codefreeze for 1.6. So, no new features – only bugfixes – until we have a new stable release.
For the release of WineBottler 1.6, I've planned some new features – as the new Mac Driver (that replaces X11) on the one hand opens new possibilities, but on the other hand forces me to rearrange features I had in place for Wine.app for a long time (like the status-bar menu).
At least, we have already achieved basic functionality with the development builds of WineBottler: You can use Wines latest and greatest – but without some of the WineBottler amenities.
Wine.app 1.6-rc2 is already working great for loads of Windows-based programs. But some still need extra libraries or treatment.
This is why I'm very interested in WineBottler Log-Files, at the moment. If WineBottler should fail to install your program – for whatever reason – please mail me the log. I'll have a look at it, and if time permits, I'll send you a hint.
Now head over to WineBottler and get the new builds.
Enjoy!
Mike